National Animal Shelter Week - Why Adopt?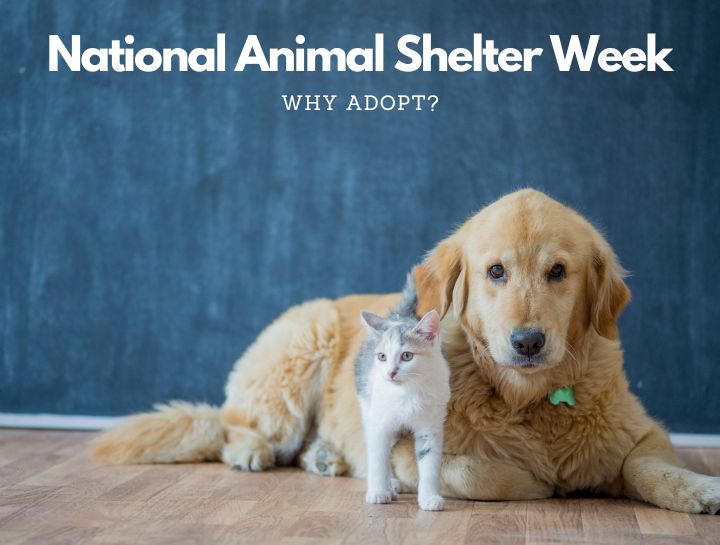 October 26, 2022
November 6-12 is National Animal Shelter Week! If you're considering adding a new furry family member to your household, be sure to check out your local shelters and rescue groups. There are so many reasons to adopt a pet from a shelter—here's why:
Save A Life
According to the Humane Society of the United States, 6-8 million animals end up in shelters every year, and, unfortunately, not all of them find homes. Only 30% of pets are adopted from shelters, meaning there is plenty of room for more people to give a deserving pet a loving home. By adopting from a shelter, you are saving a life and being part of the solution.
An Amazing Selection of Pets
While the number of pets in shelters is a sign of the pet overpopulation issue, it also means you're more likely to find your "soul pet" or the perfect pet to complete your family. Shelters are home to a variety of breeds and ages and the wide selection means you'll be able to find the purrfect cat or your ideal canine cuddle buddy.
Great Value
The adoption fee at shelters is significantly less than most stores or breeders. Many shelters offer reduced adoption rates for senior dogs and cats and even have special rates on bonded pairs.
Save on Veterinary Costs
Most shelter pets are already spayed or neutered, saving you the cost of those surgeries. Many shelters give pets their initial vaccinations, deworming procedures, and microchips. Some shelters also partner with a local veterinary office and can provide vouchers for a free or reduced-cost first veterinary exam or training classes.
A Life Long Best Friend
Giving a shelter pet a home is not only a wonderful thing to do for the pet, but a fantastic thing to do for yourself and your family! Providing a home to a shelter pet will result in a lifelong friend and companion.
If you have any questions about adopting a shelter pet or to set up an appointment for your newly adopted shelter pet, please call us at 512-459-7676 today.