Rabbit Hemorrhagic Disease Vaccine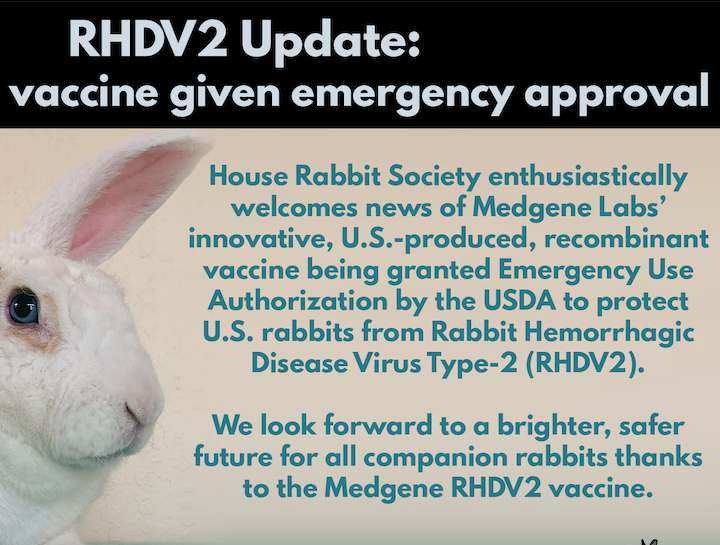 April 6, 2022
North Austin Animal Hospital will soon be stocking the new Rabbit Hemorrhagic Disease Vaccine!
Rabbit hemorrhagic disease (RHDV2) is a contagious and unfortunately fatal disease in rabbits. It affects both domestic and wild rabbits. It is spread through direct contact or exposure to urine, feces, blood, carcasses and through biting insects. The best way to prevent spread is keeping rabbits indoors and using proper biosecurity and hygiene. Luckily the virus is still rare in the U.S. although a few cases have been identified in Texas. As this is a foreign and emerging virus in the U.S., new information is constantly being collected which may change risk factors and recommendations.
Until recently there was no approved vaccine in North America and the only vaccine that could be used was ordered from Europe with special permitting. Recently Medgene labs receive approval in multiple states to start selling the vaccine within the US. This vaccine was shown to be highly effective in preventing mortality with minimal side effects. It is approved for all domestic rabbits over the age of 28 days.
North Austin Animal Hospital will soon be stocking the Rabbit Hemorrhagic Disease Vaccine. We will be starting a waiting list for those clients who are interested in receiving the vaccine and setting up a few dates to ensure everyone who is interested can receive the vaccine. Rabbits who have never been vaccinated will need a booster in 3 weeks and then yearly to provide adequate immunity. Each rabbit will need an exam to show they are healthy to receive the first dose.
For more detailed and up to date information on this diesease please visit the House Rabbit Society Webpage
If you would like to be placed on a waiting list for this vaccine please reply to this email with your full name, your pets name and your contact information.